[an error occurred while processing this directive] [an error occurred while processing this directive]

[an error occurred while processing this directive]
The History Of The Mad Max Interceptor
Part 1 - Mad Max

The car started life as a standard 1973 XB GT Ford Falcon Coupe, a car exclusive to Australia. And for the first few years of its life, this is pretty much how it stayed.
Then, in 1976, film makers Byron Kennedy and George Miller began pre-production on Mad Max. They needed a vehicle to feature in the film as the black police 'Interceptor' - a high performance, evil looking Australian car.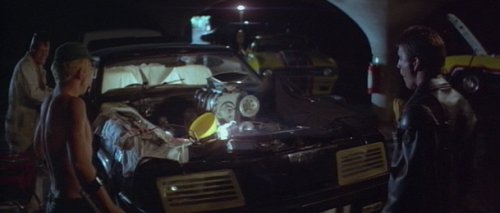 Around the same time, Murray Smith was hired on as part of the Mad Max crew. One of his tasks was to put together the Interceptor, and he started by acquiring the XB Falcon mentioned above. Then Murray, along with Peter Arcadipane, Ray Beckerley, and various others, proceeded to modify the car to what was needed for the film. The main modification is obviously the Concorde front end, and the supercharger protruding through the bonnet (which is for looks only). The Concorde front was a fairly new accessory at the time, designed by Peter Arcadipane at Ford Australia as a showpiece, and later becoming available to the general public due to its popularity. For more information on Peter Arcadipane and his products, see the building a replica section.

The car also received quite a few other, more minor modifications, to complete the package. For a fairly extensive list of exactly what was done to the car, again please visit the building a replica page. There was only ever one black interceptor built for the first Mad Max.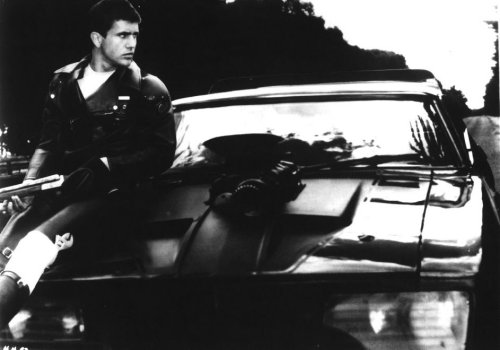 Publicity shot on Farm Road,
thanks to Bill Cooper for this picture.
Following the production of Mad Max, the car was no longer needed, and was modified once more to make it suitable for use as a standard road car (basically by removing the blower and the side pipes). It was then toured around Melbourne to shopping centres, car shows and so on as part of the promotion done for the film.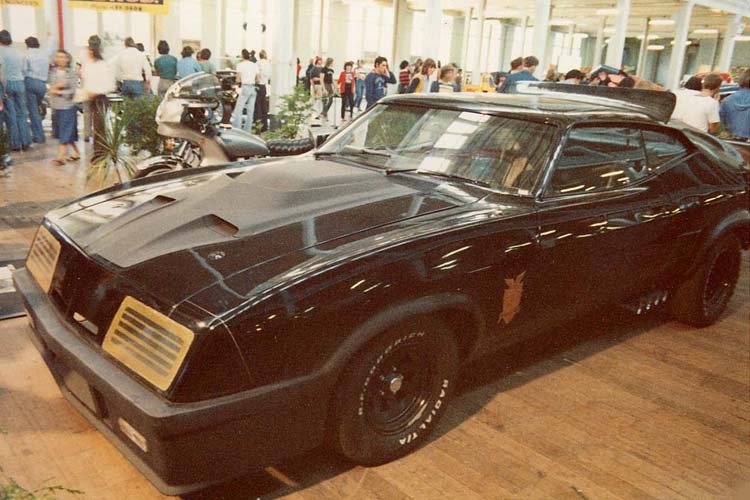 Melbourne Hot Rod Show, January 1979
Thanks to Howard Nessen.
To see some more pictures, check out the sub-page for the Melbourne Hot Rod Show. If anyone has any further pictures or information on any of these promotional showings, please get in touch.

Shopping Centre display for Mad Max
Thanks to Graeme Row.

Following this promotional work, the car was finally put up for sale. Surprisingly though, no one at the time was actually interested in buying it!

[an error occurred while processing this directive] [an error occurred while processing this directive] [an error occurred while processing this directive] [an error occurred while processing this directive]